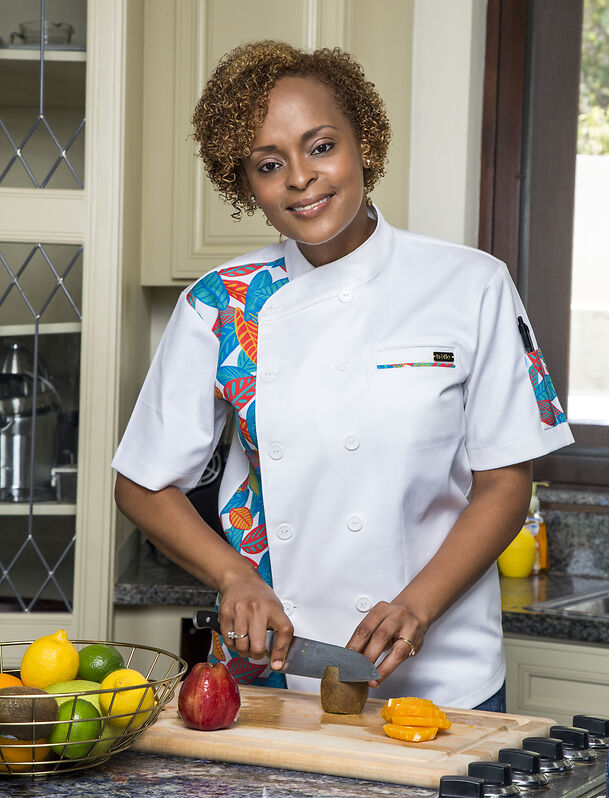 About Chef Jenese Adams
Originally from St. Vincent and the Grenadines, Chef Jenese Adams developed a love for cooking and culinary experimentation at a very young age. With encouragement from her Food & Nutrition teacher, she began to take her passion more seriously, and entered various competitions that allowed her to perfect and display her skills.  After winning the Inter-School Food & Nutrition Quiz competition as a junior at the Saint Joseph Convent Marriaqua SVG, she represented her country regionally and won the Caribbean Food & Nutrition competition as well. Jenese did not simply rest on her laurels but continued to develop her passion by working as a prep cook at various restaurants, as well as entertaining her family & friends with her food at many social gatherings. 
At age 18, Chef Adams enrolled at the New England Culinary Institute's satellite campus in the British Virgin Islands where she soon graduated with a degree in Culinary Arts. Driven by her passion and hunger for improvement, she got the opportunity to work in the kitchens of many renowned establishments in the territory including the Peter Island Resort, Bitter End Yacht Club, Long Bay Beach Resort, Treasure Isle Hotel and even the HLSCC cafeteria where she rose to the position of kitchen manager. 
Confident in her abilities, she tapped into her entrepreneurial spirit and opened K-Jnyce Catering Services in 2012. With her gift for pleasing even the most discriminatory of pallets, she used her new venture as a platform to offer event catering, edible arrangements, an assortment of dessert specials, and even exclusive private dining options. In the five years of a highly successful venture, she cooked and catered to the BVI public, tourists, many of the territory's heads of governments including the governor himself, and a number of visiting international celebrities. 
In September of 2017, the BVI experienced devastation caused by both Hurricane Irma and Hurricane Maria. Chef Adams and her family made a decision of faith to move to Charlotte, North Carolina to start anew. She was fortunate enough to gain employment at the Ballantyne Resort as a banquet sous chef where she got the chance to serve the city's elites, as well as some of the most well-known names in the country.  She then went on to accept a position at LeafSpring School in Ballantyne as the kitchen manager where God continued to place an overabundance of amazing people in her life.  
A few years later Chef Adams got the opportunity to flex her catering muscles on a grand scale! She was selected as the VIP food provider to the thousands of VIP guests and all performing artistes at the BVI's leg of the "Long Walk to Freedom" concert series.  This event was headlined by Legendary Reggae superstar Buju Banton, emerging global sensation Koffee, and a number of the region's biggest entertainers. 
In March 2021, Jen decided that it was time to step back into Entrepreneurship full time and launched her newest venture, "Chef Jen Cuisine", with the intent to provide catering & personal chef services, along with virtual cooking classes. However, God in His infinite wisdom and love had other plans, forcing her to slow down in order to accommodate the pregnancy of her daughter. During that time of reflecting and resting, new goals and ideas were downloaded into her spirit that eventually changed the game for her Career. This online store is the manifestation of countless dreams and visions with many more ventures on the horizon! 
Chef Jen describes her style as "Caribbean Fusion" because of the marriage between her West Indian roots and her many experiences with the cuisines of so many other cultures. After years of providing her signature style of food services in person, she decided that the time had come to start offering products that can be used and enjoyed every day in your homes. Chef Jen Cuisine chef store represents her passion for food, Caribbean flavors, representation, and self-care.